The Japanese Home
Introducing unique architectural features and designs
influenced by Japanese culture.
Japanese Bed Sizes and Features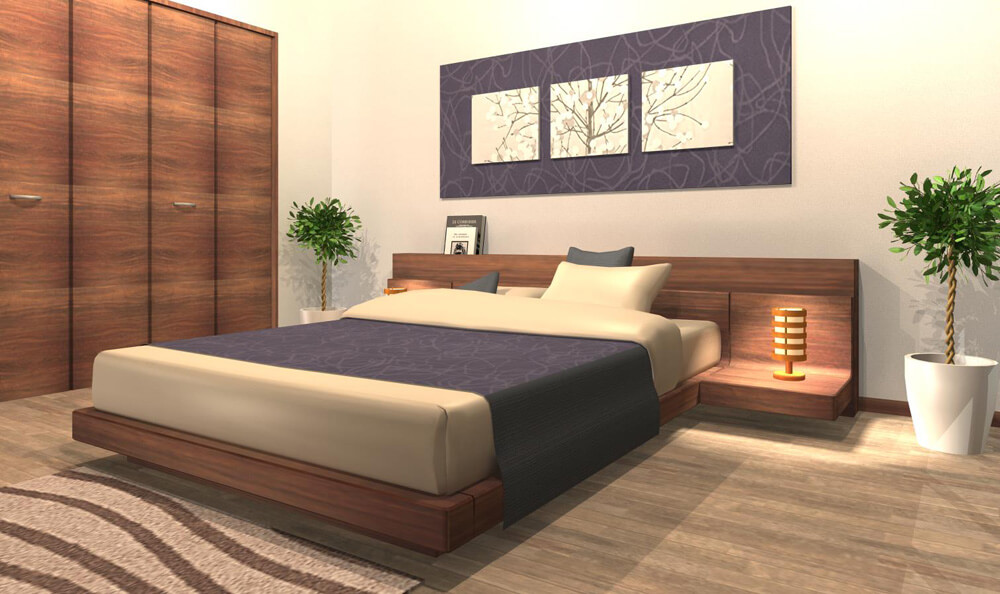 When you think of a Japanese bedroom, you may imagine a traditional Japanese-style bedding, "Futon" in a Tatami-mat room.
What kind of bedding is the recent mainstream of Japanese houses?

Bed or Japanese-style Futon?
A Japanese-style futon is different from a western-style futon which is folded into a sofa on a sofa bed-futon frame.
A complete Japanese-style futon set consists of a mattress and a duvet.
Traditionally, futons are used on tatami, a type of mat used as a flooring material.
Since a Japanese-style futon bedding set are pliable enough to be folded and stored away in a large closet during the day.
Do most Japanese people sleep on Japanese-style futons?
Families with small children also use futon for children for convenience and safety.
Japanese rooms are a relatively smaller, so to save space for a bed, a futon is sometimes used.
However, the trend is that fewer houses have Japanese-style rooms these days, and more people are sleeping in beds.
To reduce the burden of standing and sitting, some people switch from the futon to bed when they get older.
Bed sizes in Japan
Japanese bed mattresses come with a constant length of 195cm (77 inches), regardless of the size you choose, and only the width varies.
There are no sizes for tall people like the Queen, King, or California King in the US.
If you come to Japan from overseas, you may feel a little tight sleeping in the Japanese beds.

Differences in bed size between Japan and the U.S.
Japan
Bed Size
United States
Bed Size
Single
98cm x 195cm
(38" x 77")
Twin
99cm x 190cm
(39" x 75")
Semi-double
122cm x 195cm
(48" x 77")
Full
137cm x 190cm
(54" x 75")
Double
140cm x 195cm
(55" x 77")
Queen
152cm x 203cm
(60" x 80")
Queen
170cm x 195cm
(67" x 77")
King
193cm x 203cm
(76" x 88")
King
194cm x 195cm
(76.5" x 77")
California King
183cm x 213cm
(72" x 84")

Japanese Bed Frame
In Europe and America, using a box spring under a mattress is common. In Japan, a box spring is not popular, you only seen in luxury hotels, but not in many residences.
Japan platform bed, a mattress placed on a wooden platform of a bad frame, is the mainstream Japanese bedding.
The height of the bed frame and the mattress are both lower than western beddings.

Popular beds with storage in Japan
Beds with storage are popular in Japan.
The bed with drawers under the mattress platform is convenient for storing things you use on a daily basis.
The bed with a flip-up mattress can be used to store large items or items that you don't use often.

Even though sleeping in a bed is the mainstream, some people live to sleep on a futon. People who used to love futons tend to choose firmer mattresses when switching to beds.
Putting away Japanese-style futon every day is a quite hassle. If you are the person who don't like that put futon away every day is a hassle, a bed may be the best choice for you.